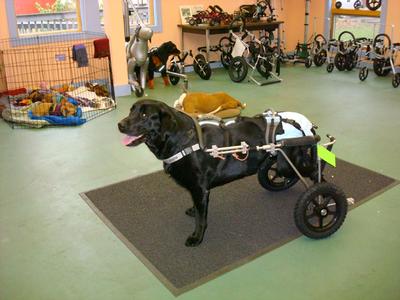 Fenway, a black lab who suffered an FCE, spent several years rolling in his Eddie's Wheels
As a local New England company, we've cultivated our relationships with many major veterinary surgical and emergency hospitals and animal rehab centers. We have found that their referrals have sparked our own creativity and added to our depth of knowledge. It was referrals from Angell Memorial, Tufts Vet School, Mass Referral, among others, that inspired Ed to develop the adjustable clinic quad. The variable axle option, now used by hundreds of dogs with degenerative myelopathy, was developed in response to working with animal rehabilitation vets to help dogs recuperating from traumatic injuries that temporarily weakened their forelimbs, as well as impacting the rear leg mobility.
These professional collaborations result in more happy pets getting the mobility aids they need to cope with their disabilities. Veterinarians enjoy the emotional benefits of knowing that even if surgical outcomes are not what was hoped for, that pets can continue to live long and happy lives with the assistance of a cart.
We were heartened to read this wonderful blog written by Dr. Mark Troxel, neuro-surgeon at Mass Veterinary Referral Hospital on the IVG Hospitals website: http://www.ivghospitals.com/specialty-services/born-to-ride/. We 're proud to say that Mass Referral has been sending their neuro and ortho clients to us exclusively for many years. We've worked closely with their doctors and rehab specialists to provide positive outcomes for their handicapped pets.
Louie, a mini-dachshund, coming home from back surgery , tries out a set of wheels