Woodstock Farm Animal Sanctuary's sheep, Summer, stood for the first time in her custom wheelchair
When Sheila, the farm manager of Woodstock Farm Animal Sanctuary called us to help them with Summer, a sheep disabled due to meningeal worms, we were grateful that we had spent a year providing wheelchairs to Spin, another disabled sheep. Summer arrived here with a full fleece, over four inches thick, but she was due to be shorn a week later. So besides the usual challenges of building a cart for a 140 lb. farm animal, we had to take into account the differences in her size and width, depending on the state of her fleece.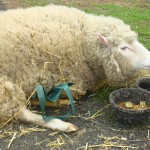 Two days before we were about to deliver Summer's cart, Sheila called to say that Summer had injured her knees trying to stand, and had given up even attempting to stand on her own. We were concerned that she was losing the will to live, and made some accommodation to the wheelchair so that, if necessary, we could add front wheels to keep her upright.
We drove out to Woodstock on Mother's Day to deliver the wheels for Summer, as we didn't want her to make the 3 hour journey to our shop. We knew that being in familiar surroundings with the support of her flock would make a huge difference in how motivated the sheep would be. When we arrived Summer was in the barn, wrapped in blankets to keep her warm, being petted by one of the sanctuary's regular volunteers. It didn't take us long to get her up and standing in the cart – it has a removable saddle, which made it easy to lift her into the cart, and the indented siderails, designed to fit her without her fleece on, fit perfectly. The variable axle allowed us to position the wheels so that we could take 20% of her own body weight off her sore front legs and knees. At first she did nothing but stand and let herself be petted. The rest of the flock came in to see what was happening, while the farm staff cheered her on.
We eventually led her to the barn door, holding the yoke to provide her with the stability she needed in the front legs. In this video, you can see her indicate that her knees are sore. Gradually, she took small steps on her own, and over the period of an hour, she worked her way out into the pasture to graze with her flock. Everyone was thrilled and astonished at how well she did.
What we learn over and over in our dealings with animals of all species is how important it is to support them in a healthy normal weight bearing stance. Once that is achieved, the animal feels normal again, and walking in the cart is a natural response. We watched as Summer got her rear legs under her pelvis and was able to use one rear leg normally. The afflicted left leg needed to be repositioned by Sheila, but after awhile, we saw Summer's ability to control her posture and foot improve. We believe that this cart is the beginning of Summer's rehabilitation.