It takes a Machine Shop to build a good dog wheelchair
Mitsu the cat, checks Eddie's work in the design studio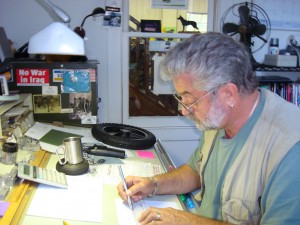 Your Eddie's Wheels cart starts with your phone call or email inquiry and submission of information about your pet and its disabilities. Once we are satisfied that your measurements are accurate, your order goes downstairs to the shop for design and fabrication.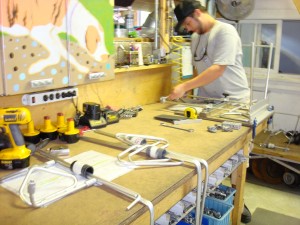 The first step is the creation of the individual custom-fitted saddle. Pieces of aluminum rod are cut, bent on a manual bender to the shape of your dog's saddle (based on your measurements), clamped to the width of your pet's dimensions, and sent off to be welded at a welding shop that specializes in aluminum welding. A day or two later, the welded frames return here, are trimmed, any special modifications shaped, and then the saddle is padded with closed cell foam.
After several days of curing the glues in a special heat process, and undergoing a second finish coat of glue, the cart is ready to be assembled. In the meantime, the blocks we use to hold the cart together are being made in our machine shop by our automated CNC machine. We make over 150 blocks for the different applications and products.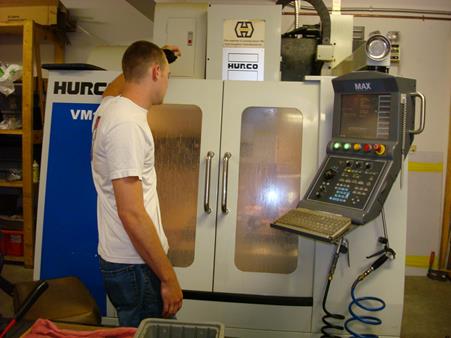 Posted: to Eddie's News on Thu, Mar 17, 2011
Updated: Thu, Mar 17, 2011