Recycled carts, rentals, and donations to rescues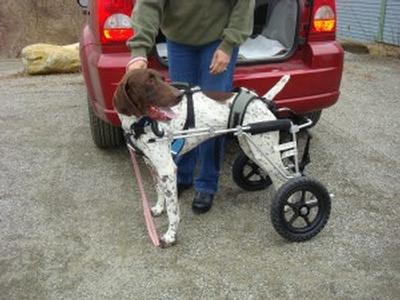 Hunter is able to rent a used cart to recover from a traumatic and temporary loss of mobility
Our mobility carts are so well made and durable that they are often in excellent condition when they are no longer needed by the original animal. We receive requests for discounted carts on a daily basis from people with limited ability to pay for a new cart, and from rescue groups and humane organizations. We are also moved by stories of animals abused and neglected who are in need of mobility assistance.
In order to meet our customers need to recycle their used carts, and to meet the needs of needy, we offer our cart recycling program. Eddie's Wheels will pay for the return shipping of any Eddie's Wheels cart. These wheelchairs are stocked and categorized by size, and whenever possible we sell used carts at a fraction (usually half) of the cost of a new cart to needy people and organizations. Very often we'll refurbish, repad and reconfigure the balance of the wheelchair for the new customer. Sometimes we can alter a cart that was built for a boxer, and fit it for a much smaller dog. We can change axles from counterbalance to standard or vice versa, to meet the needs of a new dog. When we sell recycled carts, we are re-couping our investment in shipping, parts and labor to make the used cart as good as new. This, in turn, allows us to make outright donations when possible. All used carts sold by us come with a new cart, lifetime of the dog, warranty.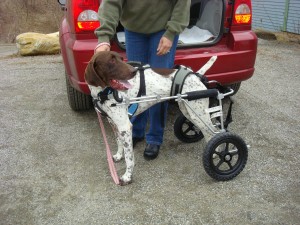 Hunter is able to rent a used cart to recover from a traumatic and temporary loss of mobility
Our supply of used carts also allows to provide short-term rentals to dogs who will only have a temporary need for wheels - such as dogs recovering from ACL surgery, spinal compressions and tick borne paralysis.
We recently received a tiny cart just in time to provide a free cart to a little dog in rescue at the Animal Welfare League of Chicago. We built and sent a free cart to Russia for a dog that had been grotesquely abused and whose case became a sensation in St. Petersburg, changing the laws governing cases of animal abuse. We built a custom cart for a pitbull who had been rescued by a military family whose owner was going a third tour of duty in the Middle East. We always offers discounts to rescue groups and shelters, animal hospitals and sanctuaries when we have to build new carts. We are able to do this because of the generosity of the our previous clients who allow us to re-sell their carts.
Here is a wonderful example: A man calls with an 11 year old boxer with DM and tells us that he has been unemployed for 2 years due to the contraction of the economy. He wants to provide his beloved dog with the assistance she needs but he cannot afford a new cart.
He gives us his dog's dimensions and we look on the deck and find a perfect cart for his dog. It is a perfect match... and it had only arrived back here the day before. The original owner is delighted that his dog's wheelchair is saving another dog's life, and everyone, especially the boxer, is delighted.
Eddie's Wheels is also committed to the concept of recycling goods. We don't like to think of our carts being sent to landfills when they could be helping another dog. We are always happy to sell a used cart rather than build a new one in an effort to conserve precious resources. We are committed to creating a community of caring dog lovers who can rest assured that their pet's wheelchair is helping someone else's best friend, even after they are gone.
*We are no longer able to offer rentals or rent-to-own on any cart. Our apologies for any inconvenience!*
Posted: to Eddie's News on Fri, Apr 15, 2011
Updated: Fri, Apr 5, 2019