Animal Rehab Professionals Prefer Eddie's Wheels
Author of the book Physical Therapy and Rehabilitation for Animals visits Eddie's Wheels for for an intensive workshop.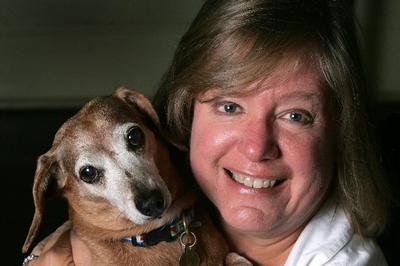 Sue Davis PT with her beloved dachshund.
We were delighted to meet with Sue Davis, P.T., author of Physical Therapy and Rehabilitation for Animals, A Guide for Consumers at our facility this summer for an intensive workshop on measuring, fitting and adjusting Eddie's Wheels carts. Sue's book on animal rehab is a fascinating read, full of interesting and vital information about the common reasons why an animal would benefit from physical therapy – from orthopedic injuries to neurologic disease. She blends her information with telling anecdotes and stories of the many animals she's helped. She's written a great blog about what she learned here.
Here at Eddie's Wheels we love working with animal rehab professionals who understand that a cart can be a valuable therapeutic tool, as well as a way to keep both dog and caregiver happy while a pet rehabs from an injury. When pets have disabilities, they compensate by roaching their backs, bringing their feet to the center of their bodies in an effort to hold themselves up. Our saddle design, which mirrors the shape and angle of the pet's pelvis, allows the pet to create traction on the spine as he walks around, lessening inflammation while maintaining a normal healthy posture. Sue Davis recommends carts for a variety of disabilities – amputations, spinal strokes, degenerative myelopathy, intervertebral disc disease. She understands that a properly balanced and well built cart is critical…..and that's why she recommends Eddie's Wheels.
We recommend anyone who is facing making decisions about how to help their disabled animal buy and read Sue Davis's excellent book, available here through our online store. If you're looking for a qualified animal rehabilitation specialist who is familiar with Eddie's Wheels carts, check out our list of qualified professionals here.
Posted: to Eddie's News on Thu, Sep 4, 2014
Updated: Thu, Sep 4, 2014