Wambley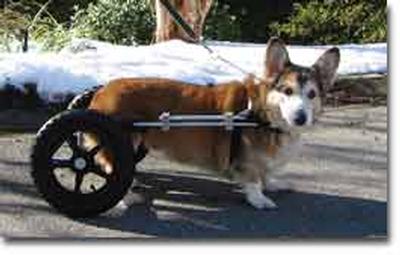 Wambley
Dear Eddie's Wheels,
Thank you all so much for making an old dog so very happy! From the moment we finished adjustments on his 'chariot' and he saw the leash come out of the drawer, we were off to the races. Wambley had no fear or trouble at all getting over the front threshhold, and I'm sure he would have pulled himself down the three steps to the yard if we hadn't reined him in. For a 14-year-old it is really incredible. He can get up the steep incline of our front yard, across the rock flowerbed border, and into the street and take a nice walk in our neighborhood. He's even raising his rear leg again to mark! The wheels give him the support he needs and he is using his rear legs on his walks, and getting much-needed exercise and recreation. The best part is his temperament has improved so much and he is a happy boy once again.
Thank you all so much from the bottoms of our hearts. On that first walk down our cul de sac we were greeted by many inquisitive neighbors, but we had a hard time explaining the situation because we were so overcome with tears of joy. I will send pictures shortly to show you our happy boy in his glory again.
Best wishes for the new year,
Miriam Mitchell and Phil Moore
Posted: to Eddie's News on Wed, Jul 28, 2010
Updated: Wed, Jul 28, 2010