Warranty and Policies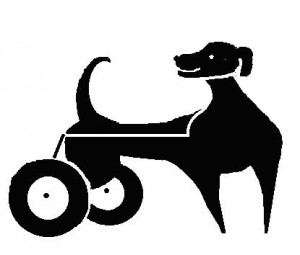 Eddie's Wheels carts are guaranteed for the life of your pet.
Our warranty
We warranty our carts against any manufacturing defects and damage that could occur due to normal wear and tear by the pet, for the life of the pet.
We do not warranty damage due to disregard of manufacturer's instructions, damage due to salt water, and damage from exposure to the elements when the pet is not using the cart.
The entire cart is held together with stainless steel set screws that require periodic tightening until they are embedded in the aluminum frame. Failure to tighten set screws will cause the rails to slip in the fittings and may cause the metal to break. Damage due to negligence in keeping the sets screws tight is not covered by warranty.
Wear on wheels is not covered by warranty, but replacement wheels are available as needed for cost.
Deposits
A 30% non-refundable deposit is required with each order, with the balance due upon shipment. For any order with more than an $800 subtotal, a 50% deposit is required. Payment in full is required for any international orders.
All sales are final. As our products are custom built, we cannot offer refunds or buy-backs.
Carts are made to the specifications given to us by the customer.
We are not responsible for poor fit based on inaccurate measurements. If the cart does not fit, we reserve the right to charge time and materials for replacement parts (new frame, yoke, crossbar, brace bars, etc.) at the correct measurements to be built. Please contact us as soon as possible if you have questions about the fit and design of your cart when you receive it. Modifications must be made within 30 days of shipping your cart. At our discretion, we may also make replacement frames as an even exchange.
We usually take no more than two weeks to fabricate your order (standard carts).
Shipping & international orders
Carts are shipped fully assembled via FedEx Ground Home Delivery but expedited shipping is available at an additional fee.
We accept orders from all over the world directly to our home office. We can ship via FedEx, USPS or CEVA. Payment can be made by credit card, Paypal, or international money order. (We are no longer accepting international wire transfers as a form of payment. Our apologies for any inconvenience.) The customer is responsible for all destination charges, duties and taxes. In many countries, medical equipment is duty-free.
A return authorization number is required to return a cart for warranty repairs and upgrades
Packages without RA #'s will not be accepted and will be shipped back to the customer at their expense. The customer is responsible for the cost of shipping carts returned for repairs and upgrades.
Used cart donation
Recycled used carts subsidize our donations to rescue groups and provide us with the ability to sell refurbished used carts at a steep discount. If you have a cart that is no longer being used, please let us know by completing this brief Donation Form. This will allow us to evaluate the uniqueness of the cart, and whether or not it can be refurbished for another dog in need. Any donated carts need to be in clean condition!
Professional discount
We offer a 10% discount to veterinary professionals and rescue groups who provide us with current credit card information and charge purchases to their business account.