Dog Wheelchair Comparisons
A review by Tannette Eyre, who was gifted a used cart for her Boykin Spaniel:
"WOW, just WOW! We have recently gotten an Eddie's Wheels Chair and it is making such a difference in my pups life. He went in a chair 4-1/2 years ago at 7 years old. He is now 11-1/2 and has been really slowing down pulling his heavy Walkin Wheels chair. The Eddie's Wheels chair is light as a feather and he's able to run again! I've also spent upwards of $2k buying parts, wheels, frames, etc from Walkin Wheels Handicapped Pets. He's on his 3rd chair from them. With Eddie's Wheels, all parts and the chair is warrantied for life. If I knew then what I know now, Eddie's Wheels would have been way cheaper and better for us in the long run. If you need a chair, definitely do your research. Cheaper in the beginning is not always cheaper in the long run. Eddie's Wheels for the win."
Why buy an Eddie's Wheels?
A typical neutral-balanced dog wheelchair is weightless on the shoulders while fully supporting the pet on its pelvic floor. The saddle, built to your dog's measurements, is large enough to allow for normal range of motion.
Designed by a mechanical engineer in collaboration with veterinarians, Eddie's Wheels are accepted as the best engineered and constructed mobility cart on the market.
Preferred by leading veterinary rehab specialists, such as Integrative Pet Care in Chicago, Healing Paws in Portland, Two Hands Four Paws and Beach Animal Rehab in Los Angeles, Dr. Jason Berg (Guardian ), Medvet, and MSPCA in Boston.
We test our products on animals – including our own disabled dogs. Over the past 25 years, Ed and Leslie Grinnell have been caregivers for eight disabled dogs, including a Doberman with wobblers, 2 dachshunds with IVDD, an abused pit bull, one three-legged cat, a paralyzed chihuahua and two pups born without front legs. We routinely meet, measure, and put dozens of pets in their carts at our facility every month.
Only Eddie's Wheels dog wheelchairs are entirely custom-built to address your pet's abilities and disabilities – giving your pet the support it needs to rehabilitate and maintain a good quality of life.
We will design and engineer the balance of the cart to compensate for any issues that might interfere with your pet's ability to successfully use a mobility cart – such as forelimb weakness, arthritis, congenital malformations etc.
What are the advantages of your padded, welded saddle over the "soft" saddle carts?
Our padded welded saddle, designed specifically to each pets' measurements, supports the pet on its pelvic floor, and allows the legs to move freely without chafing and rubbing the soft tissue of the groin. It feels like a bicycle seat, and once adjusted to the correct height, never needs readjustment. Each gender specific saddle is molded with closed cell foam which will not absorb urine or feces, and can be easily cleaned with household spray cleaners.
Compare our saddle with others:
Made to your dog's measurement, the welded, padded saddle of an Eddie's Wheels cart eliminates common problems like pressure sores and urine scald.
Eddie's Wheels' welded, padded saddle offers comfortable, stable, sanitary support to your disabled pet. No other company can duplicate the engineering and craftsmanship that goes into making our solid support saddle. Pets can use our carts as walkers without fear of creating skin abrasions from rubbing.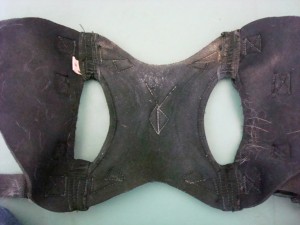 Soft saddles can trap urine, dirt and constrict the soft tissue of the upper thigh.
A Used "soft" saddle made of neoprene absorbs urine and traps loose fur. Neoprene is a non-breathable fabric used to make wetsuits – it stretches, making frequent adjustments necessary. Neoprene saddles can also be too tight, constricting the soft tissue, resulting in edema and swelling in the muscle tissue.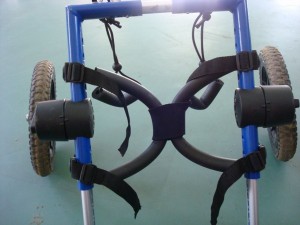 A WalkinWheels one-size-fits-all saddle consists of straps joined in the middle with a neoprene band.
Walkin' Wheel saddle made of flexible straps covered in foam and joined in the middle by a neoprene pad will stretch, move and chafe the skin as pets move their legs against the straps. The saddle attachment is fixed. This "one size fits all" cart is an assembly kit, has no custom features and is manufactured in China.
A K9 cart saddle consists of a cable with foam padding joined by an electrical tie wrap.
K9 Carts saddle consists of braided metal cable encased in foam and joined in the middle with an electrical tie wrap They put pressure on the soft tissue of groin and can chafe. The too-steep angle of the rings can chafe the inner thighs.
Listen to canine rehab therapists, Chris Cranston, MPT, and Cathy Symons, MPT, discuss using wheelchairs in general in their Petability podcast: https://tunein.com/podcasts/Education-Podcasts/PetAbility-Podcast-p1308844/?topicId=142084194
What is a variable axle and how does it work?
Only Eddie's Wheels cart can be ordered with a variable axle. The variable axle, machined on our own inhouse CNC machine, allows you to change the balance of your cart to compensate for changes in your pet's strength in the forelimbs. All other carts rely on the strength of the dog's front legs to hold the cart together and pull the cart. Perfect for dogs with degenerative myelopathy, a variable axle cart will allow your dog to have mobility for significantly longer in his wheelchair, as you can ultimately off-load his front legs by 30% as the disease weakens the front legs.
Other carts take only a few days to be shipped, while an Eddie's takes two weeks. Why is an Eddie's worth waiting for?
Eddie's Wheels carts are warranteed for the life of your pet – that means that any repairs to the padding, any breakage due to normal wear and tear are covered by warranty. That's how well made our carts are. In an average year, we make less than a dozen warranty repairs to existing carts. Many of our carts have been in service with no repairs for many years, such as our own Dachshund, Daisy, who used her wheelchair for ten years.
Our standard cart can be upgraded to accommodate a pet's changing needs. If your pet has degenerative myelopathy that weakens the front legs, a variable axle upgrade to the cart can give your pet many more months of quality time.
Detachable "training wheels" can be added to make any cart a four wheel cart.
Conversely, if your pet is rehabilitating from an injury, the cart can be used for rehabilitation. Read about our variable axle carts and read Vee, the goat's story.
Other carts are shipped as kits – Eddie's Wheels are shipped fully assembled to your pet's specifications.
I'm worried about taking accurate measurements. What if I measure badly? Other carts are adjustable and don't require me to take accurate measurements.
"One-Size-Fits-All" Adjustable carts adjust in pre-determined increments. Our carts are adjustable for height and length to whatever fraction or dimension works best for your dog. Your cart will come with an Allen key to make adjustments – simply loosen a couple of set screws on the blocks and the frame slides to the desired length or height.
Our experienced sales crew will not accept measurements that are not within the acceptable proportions we expect. We have years of experience in measuring and fitting pets in wheels and understand the standard proportions common to most animals.
Digital photos of your pet in a standing position, with a ruler for reference, allow us to double check your pet's measurements.
Other cart companies offer refunds – yours are not refundable. Why?
Because Eddie's Wheels really are custom built to your pet's body and unique disabilities, we cannot easily recycle returned carts and sell them as new carts. Other companies' carts are assemblies that can be taken apart and reworked for another order.
We offer a high degree of customer satisfaction. If your pet is having difficulty using an Eddie's Wheels cart, there is usually a good reason and we will work with you to make the cart acceptable to your pet.
Eddie's Wheels carts are guaranteed for the life of your pet
If your pet is too old, infirm, painful or lacking in motivation to use wheels, this is something that should be considered before making an order.
We'll help you recycle your cart – see our Used Carts page.
What if I have problems with the cart or my pet?
Contact us by phone 888-211-2700 or by email: info@eddieswheels.com and we'll help you problem solve.
If you can send us digital photos or post a short video on YouTube, we can assess how well the cart is fitting and if it's adjusted properly.
We want the cart to be a success for both you and your dog. We've lived with disabled pets in carts for over30 years, and are happy to be your mentors in working with a disabled pet. Our customer service team answers the phone from 9 AM to 5 PM EST, Monday through Friday. We're here to help!