Therapy Equipment
Introducing the Mini-Stand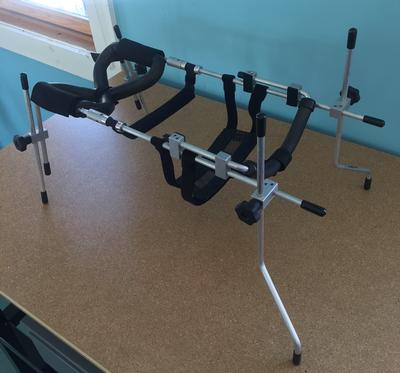 The Mini-Stand: This stand is ideal for use with smaller animals: small breed dogs, cats, some rabbits, etc. Provides solid support under the animal's pelvic floor and sternum, putting the animal in a healthy, normal weight bearing stance, instead of being draped into a sling. The stand can be used for:
Diagnostic and physical therapy evaluation
Acupuncture and chiropractic treatments
Height adjusts from 5 1/2"-10" from floor to pelvic floor of patient.
Adjusting is quick and simple.
Pricing: $450.00 plus shipping and handling.
The Adjustable Therapy Stand, Equa-Lift Hoist & The Clinic Quad Cart
Billy, born with hemi-vertebrae, stood up for the first time in his life – in our therapy stand. We watched as his rear leg tremors calmed down and his splayed forelimbs resumed a normal stance. Standing him up allowed us to measure him for a custom-built wheelchair with an adjustable tilting saddle.
In the 17 years that Eddie's Wheels has been building custom mobility carts for disabled animals, we have personally evaluated, measured and fitted hundreds of disabled animals for their carts. We have noticed the dramatic change that occurs when an animal is properly supported on its pelvic floor in a healthy normal stance.
As consumers of acupuncture, chiropractic and physical therapy services for our own disabled animals, we recognized the need for an adjustable therapy stand that would support disabled animals while they received therapy. While hydrotherapy has remarkable benefits, many of the same benefits can be achieved with land based therapies using our line of supportive devices. Neurologically impaired pets will rehabilitate faster when their reflexes are stimulated by bearing their own body weight.
The Adjustable Therapy Stand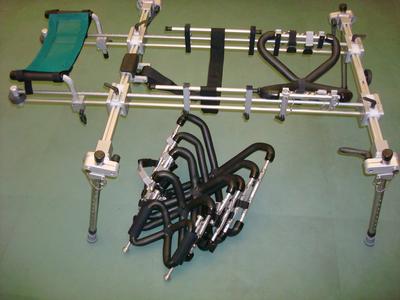 The adjustable therapy stand provides solid support under the animal's pelvic floor and sternum, putting the animal in a healthy, normal weight bearing stance, instead of being draped into a sling. Even the head is supported by the removable head rest. The stand can be used for:
Diagnostic and physical therapy evaluation
Acupuncture and chiropractic treatments
Placed over a land treadmill for therapeutic exercise and strength building
30″ wide legs allow physical therapists total access to all four legs without obstruction. Can be built to your spec's to fit other equipment.
Comes with 8 saddles accommodating dogs from dachshund to mastiff.
Height adjusts from 6"-28" from floor to pelvic floor of patient.
Folds up and stores in a closet.
Pricing: $5,000.00 plus shipping and handling - includes the therapist's adjustable bench.
Albert, a French Bulldog with IVDD made the transition from hydrotherapy to walking independently of his wheelchair with only a couple of sessions of gait re-training on a Dogtread ™ supported by the therapy stand.
Beau (pictured below), a pitbull with 3 crushed vertebrae due to trauma, receives electro-acupuncture in the stand. He uses the stand for traction, chiropractic adjustments and physical therapy.
Watch this playlist of videos showing the stand in use for acupuncture, chiropractic and gait re-training:
The Equi-lift Hoist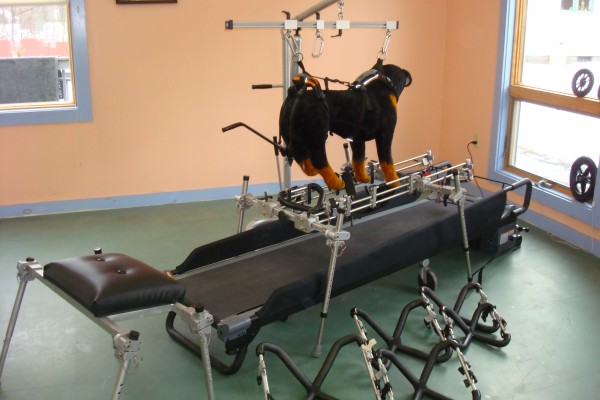 Pictured above: Hoist over therapy stand, PetZen Dogtread, adjustable padded seat, multiple saddles.
The Equi-Lift Suspension Bar is used in conjunction with a Hoyer™ lift or overhead track system and a Help'Em Up Harness ™. The hoist provides a safe, balanced way to move disabled animals in and out of the therapy stand, clinic quad cart or hydrotherapy unit. Price: $350 plus shipping and handling. Price does not include Hoyer™ lift or Help'Em Up Harness.
Shown above, the adjustable Equa-Lift Suspension Bar acts like a balance beam to safely suspend, move and lower disabled pets in and out a therapy stand, quad cart or hydrotherapy tank. It is designed to be used in conjunction with a Help'Em up Harness™ and either a overhead track system or Hoyer™ lift to safely place animals in a cart, stand or hydrotherapy tank. The Equa-Lift Suspension Bar allows the practitioner to balance the animal while it's being held up, and comes with three Black Diamond carabiners and brakes. All anodized aluminum and stainless steel, machined fittings.
An entire lifting system is available by combining the Equa-Lift Suspension Bar with one of each size medium, large and extra-large Help'Em Up harnesses (all available from us for a combined price of $690.00 plus shipping), and add a manual hydraulic lift (available here with locking caster wheels for $579 with shipping included), for a total package price of $1,270.00 plus our shipping fees for the hoist suspension bar and harnesses .
The Clinic Quad Cart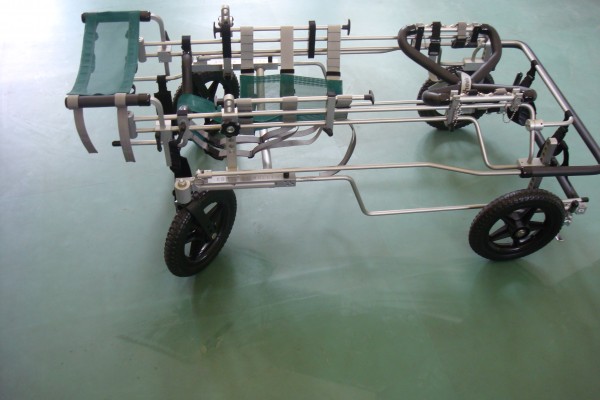 Pictured above: Adjustable Clinic Quad Cart built for Massey University Veterinary Teaching Hospital in New Zealand.
The Clinic Quad is an adjustable (for height and length) full quad cart, complete with tow handle, headrest, stirrups, and brakes that can adjust to fit animals from 50 – 175 lbs., this cart has been used to provide temporary support for critical care paretic animals: post surgical mobilization, cervical/Wobbler dogs, tick paralysis, FCE, and traumatic injuries. All anodized aluminum construction.
Turning front casters, tow handle, detachable headrest, four stirrups, and brakes.
Adjustable for height and length for dogs 50-175 lbs.without needing tools.
Minimum height 13 ½, maximum height –24" at the pelvic floor
Minimum length 20", maximum length 39".
Anodized for easy slide adjustment.
Use the tow handle as a kickstand for storage on end.
Removable saddle can be used as a manual assist. Fits both genders.
Appropriate for quadriplegic or weak animals – wobblers syndrome, temporary tick paralysis, post-operative mobilization and transport.
Can be custom-built to your specs.
Pricing: $4,200 plus shipping and handling.
A Recent Clinic Quad Testimonial:
"There are many challenges of veterinary physical rehabilitation. Sometimes our patients are bigger than we are, or we find ourselves working alone on a medium or large breed patient. Sometimes our patients are completely non-ambulatory in all four legs. And of course, sometimes we have more than one of these patients in the hospital at the same time. A situation like that was what our rehab department was working with when we were able to work with an Eddie's Wheels Clinic Quad Cart. We had a 100 lb obese, tetraparetic male lab with severe hip dysplasia and a 45 pound tetraparetic female lab cross who had fractured two cervical vertebrae. Each of these patients presented challenges in handling the patients, helping them to learn how to walk, urinate and defecate.
We had been working with the larger dog on a sling and lift system, but he was not enthusiastic about it. It also took a while to set up, required at least 2 people and he had a hard time urinating in it. The other dog could not use the lift because it had the potential to put strain on her healing vertebral fractures.
Within 2 days of having the Clinic Quad cart both patients were much happier. The larger dog could stand and urinate easily. He also started moving his legs as we pushed him around outside. After a few quick adjustments we had the smaller dog in and had her standing in a normal posture. Once we got the hang of it one person could move each patient in and out of the cart, and it took 5 minutes to change the cart from one dog's size to the other. The cart's headrest provided the smaller dog the support to keep her head up without straining her healing bones.
Over the following week both dogs showed dramatic improvement in ambulation and also attitude. Each dog was able to eat and drink from the cart and that helped eliminate the frustration that each dog had because they could not do normal activities for the past few weeks. Part of rehabilitation is patient participation and motivation. If the patient does not want to do it they won't. Both of these dogs are now walking without assistance, and are spending time at home. The clinic quad cart was a vital part of the rehabilitation for each dog, and is why they are walking ahead of schedule. I highly recommend the clinic quad cart for any rehab practice; it not only improved our patients but also made our part a lot easier."
Matthew W. Brunke, DVM, CCRP
Shaker Veterinary Hospital, PC
Latham, NY
www.shakervet.com
"I recommend Eddie's Wheels for Pets canine mobility carts exclusively in my practice. They make the highest quality carts of any that I've seen my clients purchase. Their new adjustable clinic quad cart has been a lifesaver for our nonambulatory pets in the Neurology/Neurosurgery Department here at MVRH. Our patients are much happier when placed in the cart. We're able to provide an even higher quality of medical care than we could previously. Our staff is much happier as well. They are able to easily adjust the cart and put the patient into it without excessive strain on their own backs! This adds additional work safety factor for our employees. This cart is definitely worthwhile and allows us to be more efficient with our daily caseload while providing excellent medical care."
Mark Troxel, DVM Diplomate, ACVIM (Neurology)Staff Neurologist /NeurosurgeonMassachusettsVeterinaryReferralHospital. www.intownvet.com
"We purchased our hospital quad cart last fall when we had 2 large paraparetic Mastiffs and a quadriplegic Newfie in our rehab facility together. We definitely needed more options of equipment to assist these dogs and our technicians in therapy. Thankfully Eddie got our cart to us quickly. We found it very sturdy and very easy to adjust for variable size dogs. The slings and saddle seem quite comfortable for the patient. While the Mastiffs were soon walking, the Newfie, Hope, had been down almost 6 months following an apparent cervical FCE (based on acute onset and MRI). She could now move her limbs some in the water but keeping her up during the day was a true challenge, both because of her size and her lazy attitude. Our quad cart has worked so well for Hope as she continues to improve. She was immediately happier being up in a comfortable position versus over a physioroll or a sling/hoist system. She had regained control of eliminations and could comfortably urinate and defecate while in the cart. She could stand to eat and could participate more easily in her duties as treatment room supervisor. The cart has allowed Hope the opportunity to strengthen her limbs and her core as she turns it herself around hospital obstacles and pushes over grass and gravel. As she has improved, we have lowered the cart so that when Hope gets ready to walk, she actually pushes up to a stand, her torso now lifted out of the sling and her pelvis above the saddle. She is not only supporting a substantial amount of her own weight but she is also working to push the cart along. She remains balanced by the cart (see the video taken 8 months into therapy). We are now approaching the one year mark since Hope's spinal injury. In the last month she is able to stand unassisted briefly without the cart.
Hope has certainly been a learning experience for us. Without our quad cart, I am certain our backs would have limited her opportunity to recover.
I would highly recommend this cart. I am certain owning one greatly decreases risk of injury to the caregiver, greatly improves the patient's quality of life and may very well save a life."
Patricia N. Young, DVM, CCRP, CVA
Steele Creek Veterinary Rehab
Here is Hope doing her own rehab in a clinic quad cart.